Plays
The Garden Party
A new traslation
Translated by Jan Novák
Directed by Andrea Boccanfuso
Produced by Oracle Theater
Presented at the Brick Theater on a double-bill with Mistake.
Interested is reading some of Havel's newest plays and new translations? Check out the Havel Collection from Theater 61 Press.
Thursday, October 26 at 8 p.m.
Saturday, October 28 at 3 p.m.
Sunday, October 29 at 3 p.m. and 8:00 p.m.
Saturday, November 4 at 7 p.m.
Saturday, November 11 at 7 p.m.
Sunday, November 12 at 5 p.m.
Saturday, November 18 at 3 p.m.
Sunday, November 19 at 5 p.m.
Production
Artistic director/assistant director: Jennifer Rathbone
Technical director/producer: Isaac Rathbone
Stage manager: Leah McVeigh
Set designer: Heather Wolensky
Costume designer: Meredith Neal
Lighting designer: Jay Scott
Sound designer: Brett Marshall Lefferts
Wig and makeup: Amie Swoop
Cast
Hue Plume: James Bentley
Ollie Plume (his father): Michael Marion*
Bea Plume (his mother): Kristine Waters*
Mark Plume (his brother): John Kohan
Alma: Alley Scott
Frank Slug: David Nelson
Downsizing executive 1 (male): Steve Russo
Downsizing executive 2 (female): Laura Stockton
CEO of speaker services: Sergei Burbank*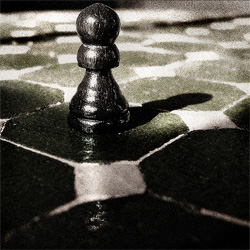 Synopsis
Hugo is a young man who does nothing but play chess with himself. Sent by his father to an office garden party, he joins the Liquidation Office. Soon Hugo is playing chess with himself again, but on a governmental level.
Production history
Havel's first full length play, which established him in 1963 as an important young playwright after it was performed at Theatre on the Balustrade.